News
Gift Supports NSBE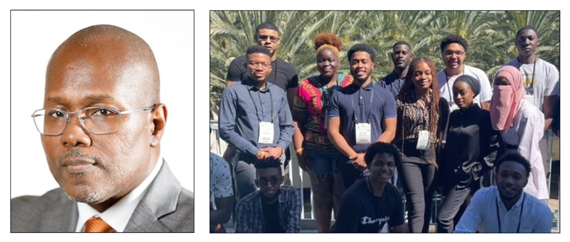 A special thanks to chemical engineering alumnus Shawn D. Rochester '97 for a generous gift to establish the Shawn D. Rochester Endowment Fund to support our National Society of Black Engineers (UR NSBE) student chapter. UR NSBE is an invaluable partner in helping us attract and retain black students in engineering and computer science. For example, each year, it sends members to the national NSBE conference to learn networking skills and connect with companies for internships and job interviews for fulltime positions. Additionally, it allows our students to meet and network with other NSBE members from across the country and be inspired by black professional engineers in leadership positions in various industries and disciplines.
Shawn was the President of UR NSBE during his tenure at the School of Engineering and Applied Sciences. He is a successful byproduct of the impact of UR NSBE and the school in terms of service to the community and developing an engineering mindset that he uses to understand better and solve challenging socioeconomic problems. Shawn is President, Chief Executive Officer, and Chairman of Minority Equality Opportunities Acquisitions Inc. (MEOA), a $126.5 million purpose-driven Special Purpose Acquisition Company (SPAC) created to execute a business combination with a minority-owned, founded, or led company. He is also the author of the critically acclaimed book, The Black Tax: The Cost of Being Black in America, and is a sought-after speaker and economic development advocate.
Shawn hopes his gift will inspire other black and underrepresented minority alums to continue to support University programs, initiatives, and organizations that help black and minority students succeed. Shawn's gift will help cover the expenses of conference registration and travel and will support other resources for the professional and academic growth of NSBE members annually.
Contact Tyrone Jimmison, executive director of Hajim Advancement, for more information about making a gift.
Computer science student Samson Tsegai is secretary for UR's student chapter of NSBE, and CS student Jaden Addae is fundraising chair for the chapter.