Undergraduate Research Opportunities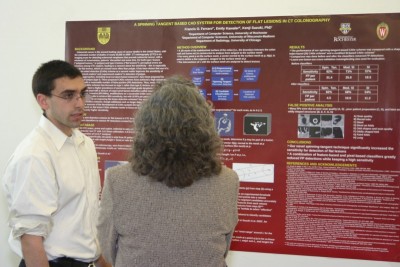 Frank Ferraro presenting his research at Senior Design Day '11
There are multiple ways students can get involved in computer science (CS) research. Students can:
Attend any of the regular research group meetings
Attend groups working in natural language processing, machine learning, parallel and distributed systems, theory, robotics, knowledge representation, human computer interaction, etc.
Speak directly to a faculty member about their research area and opportunities for undergraduates
Work one-on-one with a faculty member
Though many students choose to use independent study research for elective course credit, there are opportunities for undergrads to be paid for the research work during either the school year or the summer.
Faculty often have REU (Research Experiences for Undergraduates) funding to support undergraduate positions. Students can also apply for a summer REU at schools throughout the country. These typically include a stipend, a housing allotment and a small travel allowance.
For more information about undergraduate CS research opportunities, please contact Brynn Wilkins at bwilkins@cs.rochester.edu or (585) 275-4505.
Undergraduate Research Opportunities in CS
Undergraduate research opportunities will be posted here when available.
You can also contact faculty directly about assisting in research that interests you.