Alumni Profiles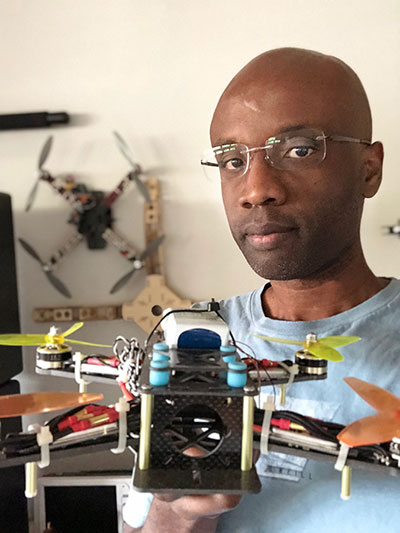 Tyrone Baird  BS '01
Interview from 2010 Multicast Newsletter
Tell me about both of your jobs, at Northrop Grumman and as a pilot in the Air Force Reserves. How often are you called to active duty?
TB: It depends on the needs of the military. When I first became a pilot 3 years ago, the conflict in the Middle East was still very active and they needed as many airlift pilots as possible.  Because of that situation, I was placed on active duty orders for close to one year, staging out of Ramstein Air Base in Germany. Our main assignment was to fly aero-medical evacuation missions out of the various combat zones in Iraq.
After completing my active duty tour, I was placed in the reserves and have been a traditional reservist ever since.  As a traditional reservist, there are still a large number of missions that we perform around the world, including those into Iraq and Afghanistan in support of the Global War on Terrorism. These missions do not require the unit to be fully activated in order to participate, which gives traditional reservists the added flexibility to be able to live semi-normal civilian lives and still actively contribute to the needs of the military.
How did you get started in the Air Force?
TB: I've always been fascinated with  airplanes and how they work.  I wanted to learn how to fly but I had a tremendous fear of heights that I never thought I would be able to overcome. One day, I decided to take a flying lesson to see if it would help me overcome my fear, and I immediately fell in love with it. After graduating from the UofR, I felt that I had the time and the resources to become a Military Officer and ultimately a pilot, so I decided to pursue that goal. First, I had to complete flying lessons at a civilian school to get my private pilot license.  I then received a sponsorship by a reserve flying squadron located in Southern California to become a C-17 pilot. I attended Officer Training School at Maxwell AFB Alabama, then Undergraduate Pilot Training at Laughlin AFB in Del Rio, Texas. The entire training process took 2 years! It definitely was one of the most difficult challenges I have ever faced, but it was well worth it.
What kind of missions are you sent on when flying the C-17 transport planes? (readers will love to hear about Haiti relief, I know).
TB: There are a wide variety of missions that we perform; they range from simple one day training missions to direct Presidential mobility support (transporting the President's security service detail and his vehicles) that take us around the world. One mission in particular that will have a lasting impact on me was "Operation Unified Response."  This mission was to support the Haiti earthquake disaster relief. We flew a number of sorties from Charleston Air Force Base in South Carolina, transporting medical supplies, reconstruction equipment, and rescue and recovery personnel. The U.S. military relief effort was overwhelming, but so was the magnitude of the disaster. Flying into Port-Au-Prince, from the air, the aftermath of the earthquake was all too clear. Most buildings in the city had collapsed, and the port itself was completely destroyed. There were people everywhere in the streets; it almost seemed like they were walking to nowhere. I've never witnessed anything like it before or since. I was definitely humbled and extremely grateful to be able to help. On each return trip to the U.S. we transported a full load of Haitian-American refugees to Orlando, Florida. Most of those people had not received any basic necessities for close to one week. Fortunately, the processing station in Florida took great care of them in getting them what they needed.
How does each job impact the other? Does it put you in an interesting position at Northrop Grumman that you are both a pilot and a computer scientist?
TB: Being a member of the Air Force definitely puts me in a unique position at my job with Northrop Grumman. I get to see the perspective from both sides; from the user point of view (the military) and the provider. I find that I can bring many of my experiences gained while I was deployed to my current job. For example, one project that I worked on involved the creation of an advanced tactical data communications link between aircraft. Communication systems are an essential part of any aircraft, and based on my field experience, I was able to provide the systems engineers and software developers with firsthand feedback on various types of communications challenges we typically encounter as pilots, and I suggested changes to make this system better.
My background as a computer programmer enhances my ability to perform my flying duties. The C-17, like many other modern aircraft, has a built-in mission computer. This computer is programmed for every flight we take. It's not programmed in the sense that we write code, compile and run it. Instead, it takes various inputs from the pilots such as air temperature, winds, air pressure, flight path waypoints, etc, and computes all the necessary parameters the aircraft will need to accomplish the mission safely. Having the computer science background makes the process of "programming" the aircraft easier and intuitive.
How computerized are the planes? Are they really like the flight simulators in video games?
TB: Many pilots consider modern airplanes to be very big and expensive flying computers. Almost every system in the aircraft, i.e. hydraulics, electrical, flight control, communications, life support, etc., is driven by embedded computers with manual backups. The aircraft autopilot and auto throttles  take constant feedback from the surrounding environment and compute exact positions to place control surfaces (rudders, ailerons, flaps, or any other surface of the airplane that controls how the plane moves through the air) much faster than any human being could accomplish. This makes for very smooth flights, and helps us pilot the aircraft in the safest way possible. Some flight simulators and video games are very similar in reproducing the way airplanes fly.  In fact a lot of our training is done in full size, high fidelity motion simulators, making the transition to flying the aircraft practically unnoticeable.
How hard is it to switch gears from active duty to your civilian life? Speaking of your civilian life, you and your wife, Diana Calarese Baird (UR CS '03) have the first child born of 2 URCS BS alumni? Do you think she'll be UR CS class of 2027?
TB: After my active duty tour, it was somewhat difficult readjusting back to civilian lifestyle. Spending a lot of time away from home takes a considerable toll on the family. In addition, there are many things that I've experienced over there that have impacted me significantly. Fortunately, my wife Diana has been very strong, supportive, and understanding, and she made the transition back to civilian life a lot more manageable. I'm lucky to have her, as I know there are many of us that returned that were not so lucky and had a much more difficult time getting back to a normal mindset.
I believe that our daughter will definitely have a high interest in becoming a URCS alumni since both her parents are. However, it might be a little bit difficult convincing her to leave the perpetually Mediterranean Southern California climate to face the harsh winters in Rochester! She seems to really enjoy the warm weather and the beaches.
Your family is from Venezuela. Does being bilingual assist you in either of your jobs?
TB: Absolutely! I've flown a number of times to central and south America, to countries where Spanish is the native language. Around the world, air traffic controllers are required to be fluent in English, but since most controllers are not native English speakers, it can sometimes be a challenge to understand what they are saying. Many foreign controllers have a strong accent. Fortunately for me, this normally does not present much of a problem, especially while flying through places where Spanish is the native language. At times I speak to them in Spanish instead and translate for the rest of the crew if they are having a difficult time conveying specific messages in English.
If it won't ruin your top-secret clearance, where do you think the future of computer technology will be in the aircraft industry? What kind of products have you worked on at Northrop Grumman?
TB: The US military is moving more and more towards automated systems, removing the human factor entirely from the aircraft. In the near future there will be many more unmanned air vehicles (UAVs) and unmanned combat air vehicles (UCAVs). There are a large number of projects currently under development by the Department of Defense and government contractors like Northrop Grumman. Their intent is to minimize the presence of humans in the extremely hazardous combat environments they face during war, as well as to avoid having people perform repetitive mundane tasks such as aerial patrolling. With the increasing pace of computing power and the leaps in artificial intelligence, these highly complex automated systems will need less human intervention and soon they will be able completely perform all phases of a mission without any human input.
At Northrop Grumman, I've worked on a few different projects, but my main focus has been working on air to air and air to ground communications systems. Most of the work is classified above secret, but what I can say is that it is highly challenging and rewarding. I believe it will continue to help keep our military the best in the world and keep our soldiers safe.
What is the most valuable skill you learned at UR CS and why?
TB: The most valuable skill I learned was critical thinking; to be able to look at problems from different perspectives to find a solution. I learned this from taking Computer Science courses such as Data Structures, Discrete Mathematics and Design of Efficient Algorithms. Almost every day I go to work, either at Northrop Grumman, or at the Air Force, I come across problems where I can apply my knowledge to find solutions. At Northrop Grumman, the software development process requires not only the ability to physically code the system, but also come up with design solutions to various computing problems that make the systems highly efficient due to the types of environments they will operate in. During combat situations, many of these systems become critical to keeping our troops safe, therefore the code has to be robust and as free of errors as possible.
What's the most rewarding part of your life now?
TB: I have to say by far, it is the time I'm able to spend with my wife and daughter. I can see how it can be easy to take ones' family for granted, but being away from them just makes me realize even more how much joy and fulfillment they bring to my life. Being able to help out when disaster strikes a part of the world, or to help keep this country safe by working on future defense technologies, or even helping the French government clean up the mine infested waters off the coast of New Caledonia by transporting US Navy mine detecting dolphins, are all very rewarding experiences in their own way. If it wasn't for my wonderful family, however, I wouldn't be able to enjoy those rewards the way I do.
What do you do for fun and relaxation?
TB: For fun, whenever I get a chance, I like to go SCUBA diving.  I also enjoy spending time with the family at the beach. Sonya especially seems to like going to the beach and playing in the sand. Luckily, we live in Southern California, so there are plenty of beaches we can go to on the weekends and when I have time off.