Human Computer Interaction
This course will explore the design, implementation, and evaluation of user interfaces. Students will study theoretical methods of interface design and evaluation, including requirements gathering, usability heuristics, user interface inspections, usability studies, information visualization, and prototyping. Case studies of interface successes and failures will augment theory with practical experiences. Students will apply this methodology to assignments in the design, implementation, and evaluation cycle. Students taking this course at the graduate level will have additional readings and assignments.
Prerequisite: CSC 171 or permission of instructor. Programming experience is assumed, and will be required for the projects. Projects will primarily be done in HTML/CSS/Javascript. Introductory primers will be provided, but students without web programming experience may need to spend extra time.
Book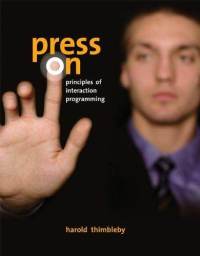 We'll be using the book "Press On: Principles of Interaction Programming" -- it's a great introduction to HCI concepts for computer scientists, and is only $26.00 :: Amazon.
We will also post a variety of articles, book chapters, and online resources on the schedule. Interested students are encouraged to get a copy of the following great books and read more about HCI: